Regular price
Sale price
£2,750.00
Unit price
per
Sale
Sold out
In Stock.
The DM231 is a lightweight, power-efficient, wide-gamut, and color-accurate 23.8" professional monitor well suited to production, post production, and broadcast environments. The DM231 is a larger version of the 21.5" DM211 and pairs extremely well with it for multiple monitor environments.
View full details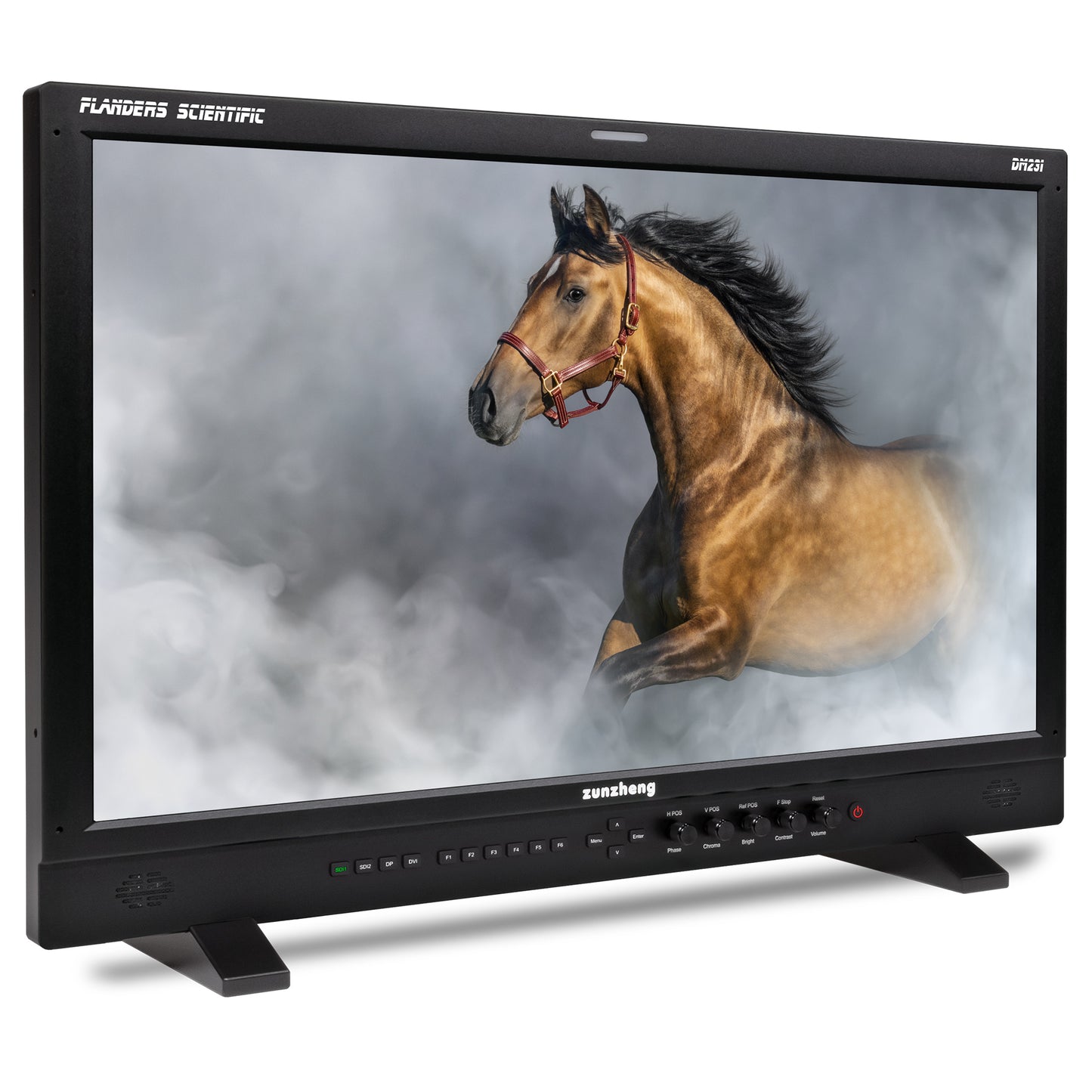 DM Series Color Management
FSI's 3rd generation Color Fidelity and LUT Interpolation Engine (CFE3) houses a multitude of calibration and Look LUT memories for highly accurate color reproduction and effective look management. Instantly select from Rec709, EBU, SMPTE-C, DCI P3, Rec2020 Emulation*, Native Wide Gamut, and Custom User Generated color spaces.
*Does not fully cover Rec2020 color space.
Additional gamma, peak luminance, and color temperature toggles further add to the versatility of DM Series Monitors.
DM series monitors support video range, extended range, and full range monitoring with simple menu based toggles.
CFE3 features industry leading tetrahedral LUT interpolation for greater accuracy and visual performance than hardware utilizing trilinear LUT interpolation.
| | |
| --- | --- |
| Trilinear Interpolation | Tetrahedral Interpolation |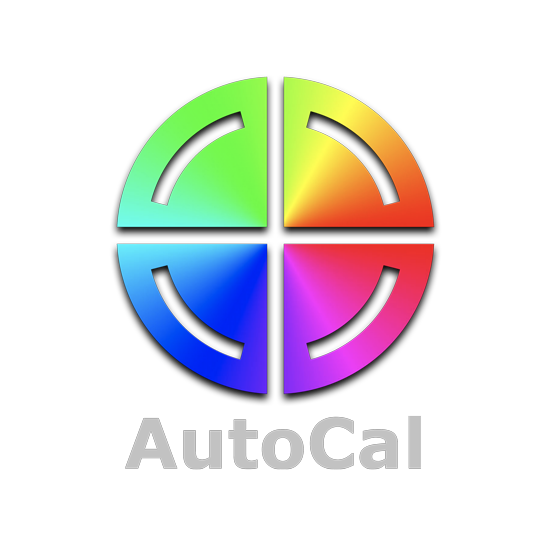 Calibration
FSI monitors come pre-calibrated from the factory and free recalibration is always available for customers that would like to send their units in to an FSI service department.
DM series monitors support highly accurate volumetric Auto Calibration. Simply plug a supported probe directly into the monitor and the advanced AutoCal program will profile the monitor and use volumetric data to accurately target a very wide variety of available color management selections. 3D and 1D LUTs are calculated and saved on the fly as color management selections on the monitor are made, making for one simple and unified calibration routine, all without requiring a computer.
DM series monitors are also fully compatible with popular 3rd party calibration solutions including Calman, LightSpace, and ColourSpace. Quickly and easily perform your own custom 3D LUT based calibration with any program capable of saving into FSI's calibration LUT format.
Shop AutoCal Compatible Probes
Software Integration
Powerful DM series features are supported by select applications including FSI's DM Series IP Remote Utility, Pomfort's Livegrade Pro, QTake's Grade Module, and Assimilate Live Assist and Live Looks.
Advanced Real Time Waveform & Vectorscope

Real Time Waveform and Vectorscope that update every frame. Scope position, background, size, and scale can be adjusted independently using the rotary knobs on the face of the monitor. Real Time scopes work in all processing modes including Zero Delay Fast Mode.

ScopeStream

The world's first real-time Waveform and Vectorscope transmitted directly from your monitor to your computer with no additional equipment needed.

Frame Capture

Capture and save full resolution reference still frames from incoming video signals with FSI's free IP Remote Utility.

Second Screen Output

Mirror what you see on screen to downstream equipment. Apply LUTs on DM Series monitors and other downstream monitors simultaneously. Second screen outputs work in addition to standard loop through outputs allowing you to simultaneously output clean and manipulated images.

Image Flip

Quickly toggle through available modes including: Vertical, Horizontal, and Vertical + Horizontal. Image Flip works on all inputs and is mirrored downstream via second screen output.

Zero Delay Fast Mode

Zero Delay Fast Mode makes DM Series monitors an ideal choice for applications requiring instantaneous video processing speed in on-set, studio, and post environments. When activated, the total latency between receipt of signal and onscreen display is less than 1 field.

Cross Conversion

DM Series monitors come equipped with cross conversion capability. This allows you take DisplayPort / HDMI / DVI signals and convert them to SDI for output.

3rd Generation Focus Assist

When activated this feature will highlight in focus areas with a trace color. The sensitivity, weight (transparency), and color can be adjusted using the rotary knobs. Select from White, Black, Red, Green, Yellow, Blue, Magenta, and Cyan.

Look / DIT LUTs

Upload and store up to 16 3D Look / DIT LUTs and instantly toggle between them using the up and down buttons.
DM231 Tech Specs
Bit Depth (Color)
8bit (16.7 Million Colors)
Panel Type
Wide Gamut W-LED
Maximum Native Color Gamut
Max Native Color Gamut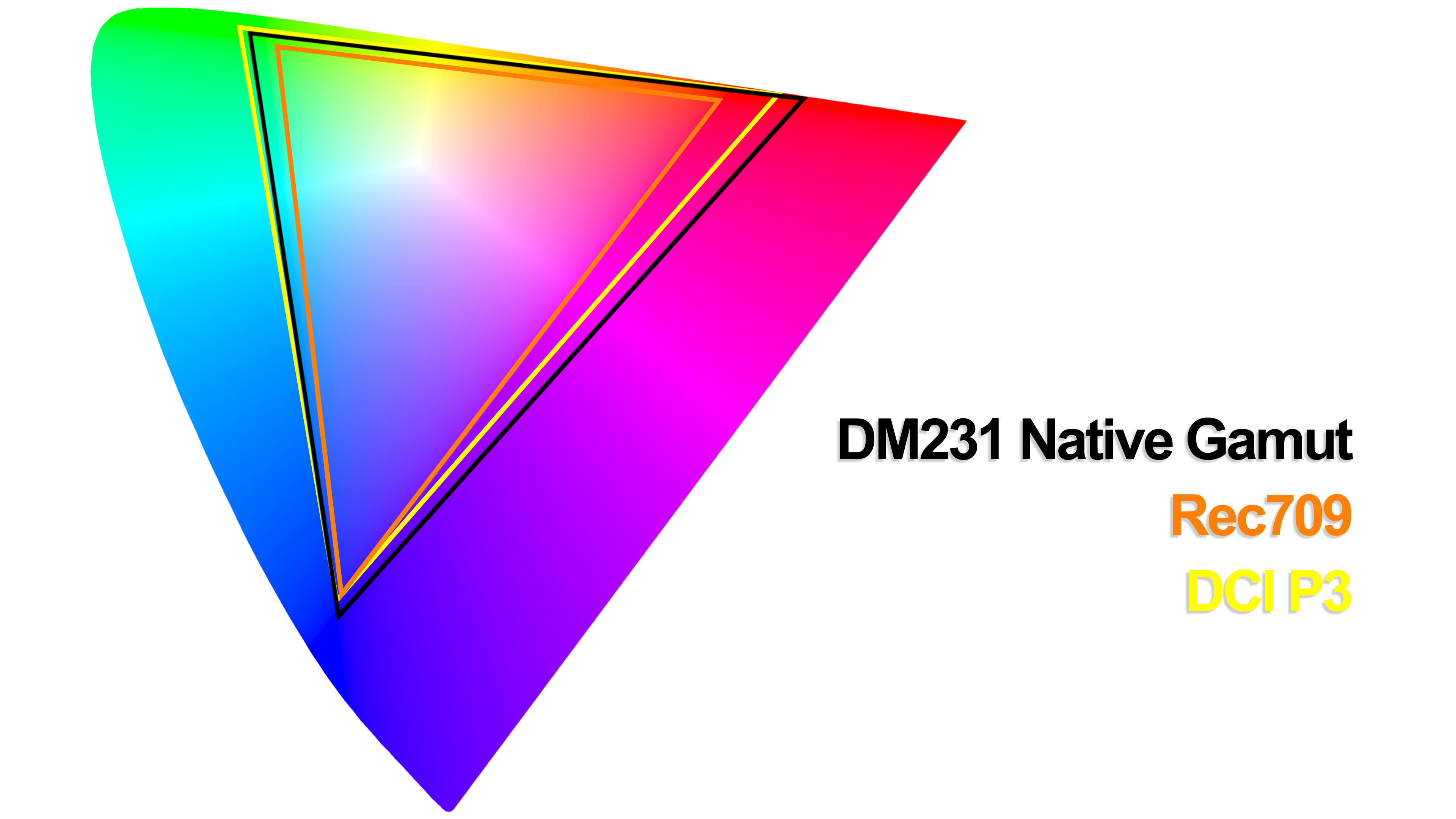 2 x BNC
2nd Monitor Outputs (Can Mirror On Screen View, Apply LUT, etc.)
SMPTE-274M
1080i
(60/59.94/50)
1080p
(30/29.97/25/24/24PsF/23.98/23.98PsF)
SMPTE-296M
720p
(60/59.94/50/30/29/25/24/23.98)
2K
2048x1080
(30p/30PsF/29.97p/29.97PsF/25p/25PsF/24p/24PsF/23.98p/23.98PsF)
SMPTE-372M
1080p
(50/59.94/60)
4:2:2 YCbCr, RGB
1080i
(29.97/25/24/23.98)
4:4:4 YCbCr, RGB
1080p
(30/29.97/25/24/23.98)
4:4:4 YCbCr, RGB
720p
(60/59.94/50)
4:4:4 YCbCr, RGB
SMPTE-425M-AB
- Level A & Level B supported
- Level B supports 2 x SMPTE
292M image format mapping
372M image format mapping
- RGB, YCbCr, & XYZ supported
12 & 10bit 4:2:2 1920x1080p
(60/59.94/50)
4:4:4 1280x720p
(60/59.94/50/30/29.97/25/24/23.98)
12 & 10bit 4:4:4 1920x1080i
(60/59.94/50)
12 & 10bit 4:4:4 1920x1080p
(30/29.97/25/24/23.98 + PsF variations)
12 & 10bit 2k (2048x1080)p
(30/29.97/25/24/23.98 + PsF variations)
12 & 10bit 2K (2048x1080)p
(60/59.94/50/48/47.95)
*XYZ mapped to Selected Color Gamut on Color Management Menu
DVI-Digital
VGA (640x480), NTSC (720x480), SVGA (800x600), XGA (1024x768), SXGA (1280x1024), 1280x720, 1440x900, 1920x1080
Removable Desktop Feet
Standard
External Mounting Points
100mm VESA
VESA to Light Stand Mount
Optional
Carrying Case with Integrated Hood
Optional
Clear Protective Cover
Optional
Timecode Display (SD/HD-SDI)
LTC, VITC 1, VITC 2
Color Fidelity Engine
CFE3
Blue Only & Mono Mode
Yes
Side by Side Monitoring
Yes
3D LUT Color Space Selection
SMPTE C/EBU/REC709/REC2020 Emulation/DCI P3/USER
Color Temperature Select
3200K, 5000K, 5600K, 6500K, 9300K
Gamma Selection
1.0 / 1.8 / 2.0 / 2.2 / 2.35 / 2.4 / 2.6 / 2.8
Power Requirement
100~240V AC / 12~24V DC
DC Power Consumption (Appx.)
22W Normal Mode, 34W Outdoor Mode
Weight (without Desktop Feet)
12.4 lbs (5.6 kg)
Weight with Desktop Feet
12.8 lbs (5.8 kg)
Weight in Carrying Case with Hood (Optional)
19.8 lbs (9 kg))